It can't have escaped anyone's attention that this year marks the commemoration of 100 years since the start of World War One and, earlier this year, the thoughts of the Parish Council were naturally directed towards its War Memorial at Holly Road, Little Dawley. It is some years now since we removed the Memorial Plaques from the redundant St. Luke's Church Doseley to the newly created Parish War Memorial on the corner of Holly Road / Lightmoor Road and it was decided that the Cross had deteriorated to the point of needing attention. The Cross (and the lych gates) were especially made for us in untreated, green oak which, if left alone, ought to weather nicely and last for quite some time however, unfortunately someone (who to this day remains unknown to the Parish Council) took it upon themselves, in a possibly well meant but entirely misguided gesture, to varnish the Cross. This had the effect of sealing the moisture remaining in the wood inside and prevented it from naturally breathing and drying out and, in the end, caused it to rot; had it been left alone, in an untreated state, it would have steadily matured and quite possibly lasted more than one lifetime.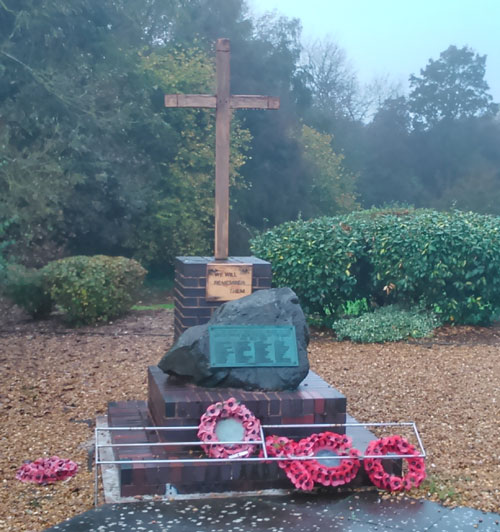 The Cross how now been replaced and, hopefully, will be left unmolested in its untreated "green" oak state.
The Parish Council is now turning its attention to the refurbishment of the gates set in the Lych Gate.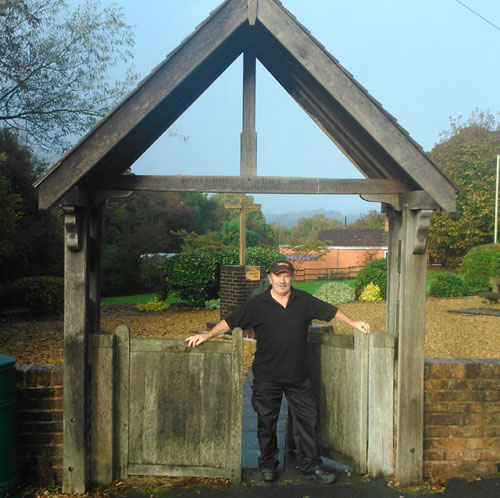 Cllr. Andy Chetwood, Chairman of Dawley Hamlets Parish Council, standing by the Lych Gate at the entrance to the War Memorial.
Details of the names of the Fallen Heroes listed on the two Memorial Plaques can be found on-line at http://dawley-hamlets.org/memorial.html